I want to tell you something. Hang with me because I know it might sound a little strange given my heart, my passion, and how I fill my days. But, here it goes—I'm not interested in telling people to adopt. I talk a lot about adoption. I read a ton about it, and I've been known to write a thing or two about it. But, I am not at all interested in promoting adoption for adoption's sake. To me, it's not a hobby or an evangelistic effort. It's not a trend or a movement. It is a way that God makes beauty out of brokenness for both children and families. Through adoption, God mysteriously redeems what may be the most tragic earthly experience. He masterfully connects that which is disconnected and makes something entirely new. It's amazing. That's what my God does.
But, even though I recognize the work God does through adoption, I am not asking you to do it because God may not be asking you to do it. God does call some to adopt. He may use infertility to draw them to it. He may ask for them to respond to brokenness in their extended family in kinship adoption. He may use a personal experience or grow a desire in their hearts for a large family or for caring for those with special needs. The journey our Maker takes us on is as unique as the family He eventually builds.
But, here's the thing: God calls only some to adopt. But, He calls all to have compassion and actively live it out.
There are so many ways you can do that. I want to show you just one. It's not the end all. It's pretty simple and doesn't require all that much of you. But, it's a way you can be a part of this compassion thing, a very simple way you can enter into the mess and beauty of adoption and let God grow your heart for the needs of others whether they are children who are without parents or parents who are growing their family through bringing one or more of those children into their fold.
The work of The Sparrow Fund is compassion. Through grants designated specifically for preadoption support and counsel from medical professionals as well as trainings and retreats, The Sparrow Fund seeks to serve those families who have been called to adoption. And, through leading people in various stages of life as a team to serve children who are without families on the other side of the world, The Sparrow Fund seeks to care for orphans and grow a heart for that in others.
I am not interested in telling you to adopt. But, I am interested in urging you (a) to compassionately care for those who do adopt and need support and (b) to equip teams of people to go and see and feel and love little ones and the not so little ones who remain without families. And, I believe supporting The Sparrow Fund is one of the ways you can do that.
The month of May is The Sparrow Fund's biggest fundraiser of the year, the month committed to building the nest so that we can continue to serve children and families. Would you consider supporting The Sparrow Fund this month? Donate directly from The Sparrow Fund's website or shop with purpose. Over 50 businesses—only some of whom are owned or operated by those in the adoption community—have committed to either sponsoring the fundraiser or giving 10% of their total sales during the month of May to The Sparrow Fund. Grab a cup of coffee, snuggle up with your mouse, and live out compassion by doing some shopping. Help make that 10% something crazy big and let God use you in a seemingly little way to do some big things.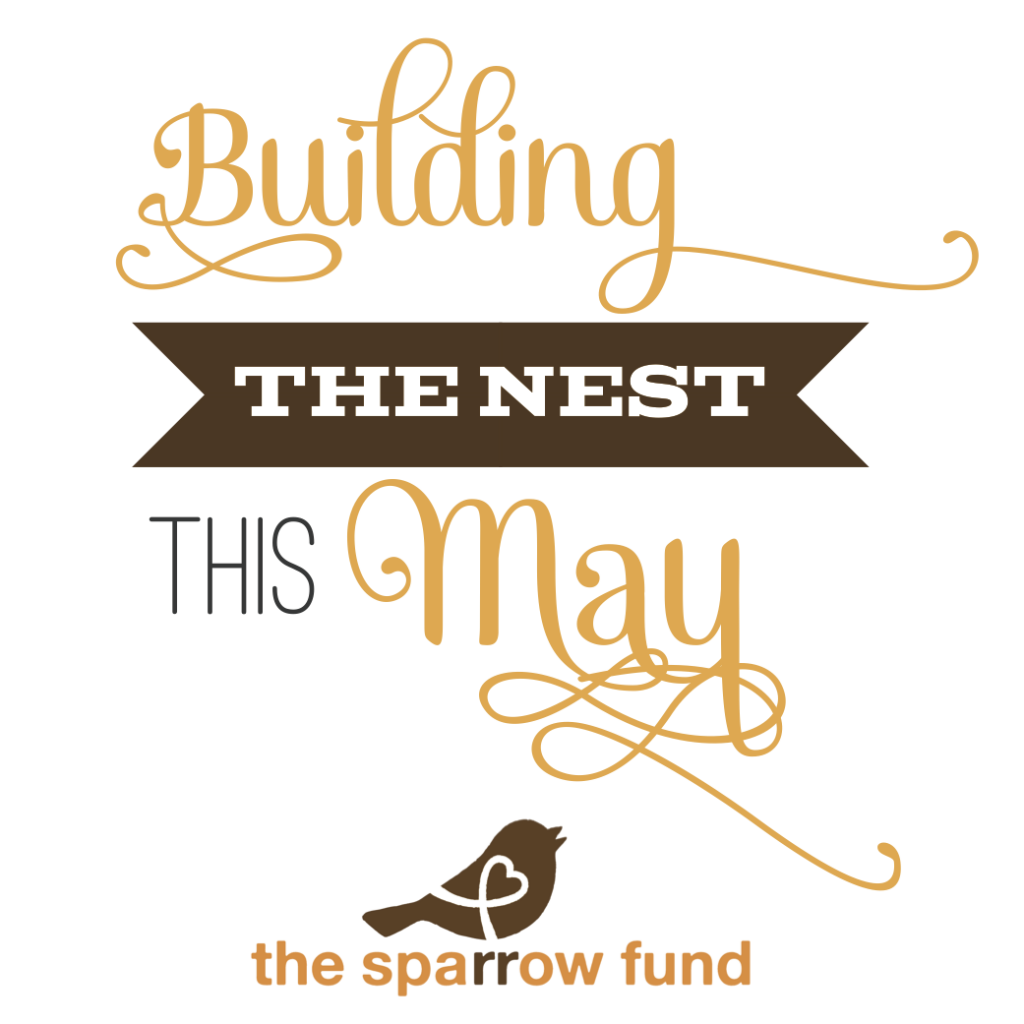 _____________________________
Kelly has a passion for supporting adoptive families, specifically to encourage parents to be intentional and understand their own hearts more clearly as they seek to care for their hearts of their children. Kelly has a Master's degree in counseling and has been working with adoptive families since she and her husband Mark founded the The Sparrow Fund. Married to Mark since 1998, they have 3 biological children and 1 daughter who was adopted as a toddler from China in 2010. You can learn more about their adoption story, how they've been changed by the experience of adoption, and what life for them looks like on Kelly's personal blog, My Overthinking.